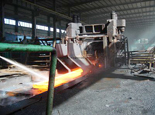 A 588 Gr B distributors, A 588 Gr B for sale
BEBON, we are engaged in weathering steel industry for more than 20 years, we built a long-term strategic cooperation relation with biggest steel mill, we always keep more than 5000 tons stock per month in our warehouse, until now, BEBON has became the biggest supplier, A 588 Gr B distributors in china, our A 588 Gr B steel were already sold into global
market. And a huge amount of A 588 Gr B stock for sale, you can purchase it from our E-stock platform, you also can directly contact our sales team by email or call.
Other important information about 588 Gr B steel as below:
A588 Gr B steel size, 588 Gr B specs, 588 Gr B steel specification:
Thickness: 2mm-120mm
Width: 1000mm-2500mm
Length: 6000mm-12000mm
According to customer's request, the size can be changed.
A 588 Gr B chemical composition %:
C: max 0.20; Mn: 0.75-1.35; Cr: 0.40-0.70; Si: 0.15-0.50; N: max 0.010; S: 0.050;
Cu: 0.25-0.40; P: 0.040; V: 0.01-0.10; Ni: max 0.50; other:---
A588 Gr B steel plate, this kind of steel is not easy to rust. when steel plate were exposed in the atmosphere, Cu and P were combined into a dense layer of Oxidation film, and Cr and Ni also can make an Oxidation film, so the kind of steel has a very good corrosion resistant.
A 588 Gr B mechanical property:
Min yield strength Mpa:
. Thickness(mm)>2≤50: 345
. Thickness(mm)>50≤200: 345
Tensile strength Mpa:
. Thickness(mm)>2≤50: 485;
. Thickness(mm)>50≤200: 485
Elongation%:
1). Thickness(mm)>2≤50: 18
2). Thickness(mm)>50≤200: 21
BEBON steel can supply A 588 Gr. A steel , Corten-B steel , S355J2G1W steel , S355J2WP steel , if you want weathering resistant steel ,please contact us