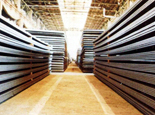 S355J0W chemical composition: C: max 0.16, Si: max 0.5, Mn: 0.5-1.5, P: max 0.035, S: max 0.035, Cr: 0.4 – 0.8, N: max 0.009, Cu: 0.25 - 0.55, CEV: max 0.52.
S355J0W steels may show a Ni content of max. 0,65 %. For long S355J0W steel, the P and S content can be 0.005% higher. The S355J0W steel may contain max. 0.30 % Mo and max. 0.15 % Zr. It is permissible to exceed the specified values provided that for each increase of 0.001 % N, the P max. content will be reduced by 0.005 %; the N content of the ladle analysis, however, shall not be more than 0.012 %. The max. value for nitrogen does not apply if the chemical composition shows a minimum total Al content of 0.020 % or if sufficient other N binding elements are present.
S355J0W mechanical property: Generally speaking, S355J0W yield strength is more than 295 Mpa and S355J0W tensile strength is from 450 Mpa to 680 Mpa.
If you want to know more information of S355J0W chemical composition and S355J0W mechanical property, please don't hesitate to contact with Bebon Steel.we can supply more products like:S355J2G1W steel , S355J2WP steel , S235J2W steel , S355J0WP steel.